GDPR Auditing is a specialist consultancy, focussing on everything GDPR. We haven't just added GDPR as a bolt on to existing services, we have however created a set of products and services dedicated to GDPR.
We have many satisfied clients for all of our services and our toolkit has sold over 170 copies since it launched in February 2018, Visit our clients page to see what some of them have been saying.
We offer services and solutions for every size and type of organisation:
Other services:
Training courses – in house or on premise, self-paced online
Public speaking – recent engagements include U3A, Surrey Care, Cherwell EMEA Conference
Policy, process and procedure templates or bespoke documentation
For larger organisations we offer a GDPR Management solution based on the Cherwell ITSM platform, through our partner Thebes Group, under the ThebesGDPRAuditing brand.
Whatever your needs GDPR Auditing can provide a full End to End Service, if your remediation list looks like more than you have the time or resources for then we can help.
We can also provide policies, procedures, tools, project and program management, IT and IT security services and implementation following an audit.
GDPR Auditing are able to offer services to international clients, and have recently completed engagements in Malta and North America.
GDPR Audit
We recommend, the first step towards compliance for most organisations should be an audit.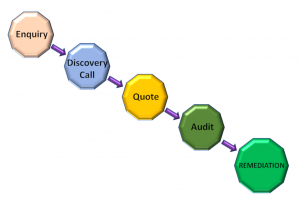 An audit typically lasts between 2 and 4 days and at the end of it we provide you with a full report on where your gaps are. The report includes a full set of recommendations to enable you to build a prioritised remediation plan.
By performing an audit, gap analysis or assessment, we can quickly and efficiently determine what you need to do to become compliant with the GDPR.
We cover all parts of your organisation that might touch personal data – HR, Accounts, Sales and Marketing, Contracts and Legal, Payroll, IT, Support, Development, Recruitment and Compliance amongst others.
Our Audits provide Education and Guidance throughout the process.
An audit isn't just one way, our clients find it an invaluable exercise for generating awareness of GDPR throughout their organisations and a chance to ask questions and receive some answers to parts of the GDPR they might be struggling with.
Why have an audit: Almost without exception our clients say they would never have been able to get the full business coverage on their own or uncovered some of the things we find.
GDPR Check and Verify
Part way thorugh a GDPR program or even finished it?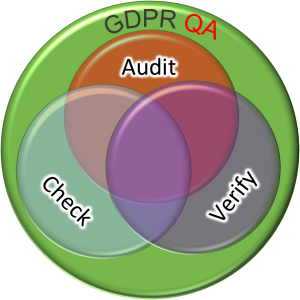 Our Quality Assurance service is for organisations who are already part way through their GDPR program, or have finished and wish to have it independently reviewed.
This service looks inside your inflight projects and advises on whether the outcome will deliver what you need.
The review tests your application of the processes and controls to verify they are working correctly.
When combined with our GDPR audit service it means we can provide help wherever you are in the GDPR lifecycle.
Specialist Solutions
We at GDPR Auditing understand that the GDPR will impact industry sectors in different ways.
With this in mind we are developing targeted solutions starting with our GDPR Self-Assessment for accountants solution, now promoted by the ACCA.


Contact
Contact Philip Mather or Vakis Paraskeva to start a conversation or schedule an initial meeting. You will be under no obligation and if we can't help or you don't want us to, then you can walk away.
Follow us