GDPR Representative UK or EU
The UK left the EU on the 31st December 2020
If you are processing personal data of UK citizens you will in most cases need to appoint a UK GDPR Representative. If you are processing EU personal data you will also need an EU Representative.
Processing EU and UK data you will need a representative in an EU country as well as the UK.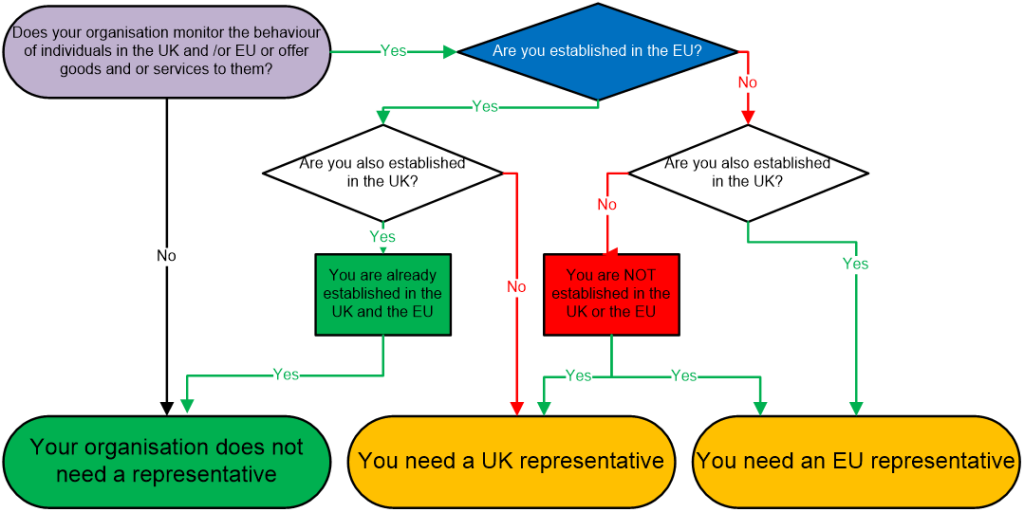 The requirement mirrors Article 27 of the GDPR where a controller or processor not established in the union must appoint a representative 'who is' established in the union – an or in the UK.
If you had an EU GDPR representative you now also need a UK GDPR representative, and vice versa. This requirement applies to any Non-UK organisation processing UK data.
GDPR Representative Service Features and benefits
Choose GDPR Auditing and/or our EU Partner as your GDPR Representative
Demonstrate credibility with the UK or EU Supervisory Authority and UK / EU data subjects by using a long established and reputable data protection specialist
Gain confidence that your representative understands the EU GDPR, UK GDPR as well as the UK Data Protection Act 2018
GDPR Auditing are specialists in International Data Transfers servicing clients in Europe and Worldwide
Our EU partner is a registered German business and able to provide EU Representative services for all EU regions
Full range of GDPR services available at discounted prices for any clients we are representing
GDPR Representative Service Features
Nominated GDPR Representative to include on your Website Privacy Policy as well as other relevant documents
Formal recognition of GDPR Auditing as your UK Representative to the UK Data Protection Authority (Information Commissioners Office) or our German Partner as you EU Representative
Providing a first point of contact for all data protection enquiries
Keeping you up to date with UK and EU Data Protection notifications and providing professional analysis of the impact to your business
Assisting you with the management and response to all data subject enquiries and requests including a data subjects rights to information, access, rectification, restriction, portability and notification of processing of their data
Assisting you with the management, reporting and notification of personal data breaches
Full review and analysis of your Record of Processing Activities in English. We also retain an English version for surrender to the ICO if required
Additional Services
We also offer additional related services at a discount.
Review all international data transfer agreements (SCC's, BCR's, derogations) to ensure they provide the appropriate legal transfer mechanisms
Recommendation and implementation of supplementary controls required to legalise international transfers
Data Protection Impact Assessments for processing UK and or EU personal data
Data cleansing for personal data – other data can be accommodated
Analysis and review of data retention periods specific to UK personal data
Sign Up and Pricing
Competitive prices individually tailored for your business.
Fast sign up, monthly, quarterly or annual contracts.
Cancellation with 30 day notice, terms apply.
Contact Us
If you would like to know more about how GDPR Auditing can help your organisation with GDPR Representation, GDPR generally or PCI-DSS then please contact us at info@gdprauditing.com or visit our contacts page.
The information provided in this post is for general information only and is not intended to provide legal advice.