GDPR Auditing deliver a Key Note Address at the Surrey Care GDPR Seminar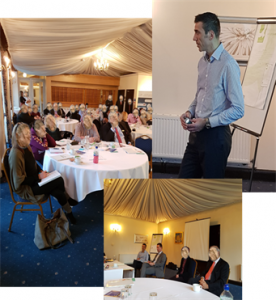 31 January 2018
Vakis Paraskeva and Philip Mather from GDPR Auditing present two sessions for the Surrey Care Association:
GDPR overview
How GDPR will affect the care industry
Talking to an audience of mainly care home owners and some domiciliary care businesses, in the first session we provided a high level view of what the GDPR is and why it should be taken as a positive step forward.
The second session addressed some of the specific issues the care industry faces when seeking to comply with the GDPR.
Consent (and the ability to give consent)
Record Keeping
Performance of a Contract
Subject Access Requests
Data Ownership
Red Bag Scheme
At the end of the two sessions, GDPR Auditing and Cura Systems took questions from a packed house, keen to clarify elements of GDPR and to discuss some of the more complicated areas where GDPR crosses other regulations, and legal frameworks.
Surrey Care are putting on more dates, please go to the Surrey Care website for further details at www.surreycare.org.uk.
Contact us
If you would like to know more about how GDPR Auditing can help your organisation with the GDPR please contact us at info@gdprauditing.com or visit our contacts page.
The information provided in this post is for general information only and is not intended to provide legal advice.


© GDPR Auditing 2017.